Back to press room
Berger presents Camp Richelieu Vive la Joie summer camp Family Days
Saint-Modeste, January 5, 2016. – For a second year in a row, Berger is proud to partner with Camp Richelieu Vive la Joie to present Berger's Family Days that will be held on January 23rd, 24 th, 30th and 31st at the Universal Hotel in Rivière-du-Loup.
These two weekends represent an important fundraising activity for the summer camp that is established for over 50 years in Saint-Modeste and that enables thousands of young people per year to experience life at camp.
Berger is proud to take part in the success of this organization that contributes to the vitality of our community and the development and fulfillment of our youth.
We invite the public to participate in large numbers to these days where many activities and surprises await families: shows, inflatable games, makeup and much more. The Berger team will be on site on Sundays January 24th and 31st. Come and meet us!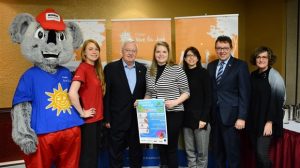 Please fill out this form to get the article in pdf format