Ten reasons why you should work for Berger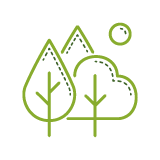 The surroundings
Berger's headquarters are located near Rivière-du-Loup, in the beautiful Bas-Saint-Laurent region. Just imagine it: the salty air, the open spaces, the non-existent traffic… Berger even helps you to relocate to our region and provides financial assistance for moving expenses.
Proximity
At Berger, you'll be part of the family from day one thanks to thoughtful gestures, a personalized training plan and a mentor to support you while you settle in! We build relationships through a variety of free social activities, which provide the ideal time to get together as a team, make friends and meet our small family.
Balance
A work-life balance is really important to us. As a result, you will be able to take flexible leave and vacation days as well as benefitting from a well-deserved rest over the holiday season. Remote working is also an option in many departments to respond to the new reality of work.
The extras
We believe that everyone contributes to the company's success. That is why each of our employees has access to a share of the profits. A little bonus to thank you for your hard work! !
Passions
Each year, Berger offers you an allowance to use for items related to work, sports or hobbies. We're happy to help you pursue your passions, even outside of work! Plus, you'll be the best gardener in your neighbourhood, since you'll have access to our horticultural mixes at a discount.
Health
At Berger, we care about your physical and mental health, so we provide you with an ergonomic workstation, an employee assistance program and more. Say goodbye to those never-ending doctor's appointments: You can see a doctor virtually via a telemedicine service for your minor health issues.
Self-improvement
At Berger, you can develop new skills and learn continuously through our wide range of training opportunities. In other words, you'll be paid to learn and thrive with training that is tailored to your career goals!
The future
Teams ensure the stability of the company's future by developing long-term strategies. Based on this principle, we give you the opportunity to participate in the RRSP pension plan to ensure the stability of YOUR future!
Conviviality
There is no extensive hierarchy here. We are like a hockey team. We work in multi-disciplinary teams, drawing on each individual's talents and strengths. You can share your ideas freely and help further the company with our continuous improvement program.
social involvement
We get our hands dirty, and not just with soil! Berger is committed to ensuring and contributing to the well-being of the communities where we are based.