New Berger Experience at Cultivate16
Cultivate'16 is an opportunity to take a break in our busy routine to watch the new trends, learn more about various business opportunities and the evolution of the market. This year, it's also the opportunity for Berger to reinvent itself and offer a brand new experience to its visitors!
In a dynamic and completely different scenery, access to Berger's Technical Services, Sales Team and Customer Service will be at the forefront of your experience. The stand # 1247 will even be hosting technical conferences presented by our Grower Advisors and 13 Sales Representatives will be on site to answer your questions. The vast extend of Berger's new booth will even hold a section dedicated to personalized business meetings.
Don't miss out on Berger's programming at Cultivate'16, reserve your spot right now for our various technical workwhops.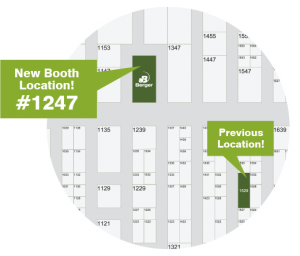 Sunday 10th July
Monday 11th July
 Tuesday 12th July
 9:30 – 10:00
pH in soilless growing media
 9:30 – 10:00
Analytical Services
 9:30 – 10:00
Dedication to the Environment
 11:00 – 11:30
Best Potting Practices
11:00 – 11:30
NF Wood
 11:00 – 11:30
Growing Media components
1:00 – 1:30
Quality Control
1:30 – 2:00
Traceability
 2:30 – 3:00
Peat Characteristics
3:30 – 4:00
Peat Manufacturing
 4:00 – 4:30
Making the switch to Organic
11 micro presentations of about twenty minutes designed to establish strong foundations in order to increase the benefits of professional growers are offered all along the event's opening hours. Check the schedule below for complete details.
PLACES ARE LIMITED – REGISTER NOW!
Analysis Results Interpretation Service
Berger's technical experts will be on site to allow you to discuss possible solutions for your daily growing challenges, but also to dissect the results from your laboratory inspection reports. Your customer data collected by Berger since 2013 will be accessible. But to obtain recent results, please send your samples to Berger's laboratory (Texas = US, BMM CAN only) before July 1st.
Do not hesitate to ask the support of your representative for this step!
Berger's Happy Hour
In a friendly, festive and drinking atmosphere, the Berger team invites you to take part in its annual celebration. This appreciation night for our business partners will be held at the Crown Plaza, Fusion room starting at 6:30 pm on Sunday July 10th where beverages and bites will be offered. The presence of our Boards' Co-Presidents, Claudin and Régis Berger, will be the opportunity to highlight the impressive path of Berger in an industry in constant evolution and to thank you to let us share your success. We have surprises in store for you.
Please confirm your presence by July 1st using the form below to allow us to ensure a flawless unfolding.