Improve Your Production by Meeting Our Expert at the 2017 Marijuana Business Conference & Expo
November 15-17 | Booth #1108 | Las Vegas Convention Center | 3150 Paradise Rd, Las Vegas, NV 
In 2017, let's do more, and better.
Benefit from the onsite help of Berger's grower advisor, meet John Bergman at booth #1108, you may improve your growing methods and production results!
Take advantage of your visit at the booth to get your
"Day by Day Cannabis Production Guide"
Use promo code MJBizConExpo and save $50 on your ticket purchase.
Grower Advisor

Cannabis Production Guide Preview
---
Brian's guide Preface
As the title indicates, this is only a guideline which can vary from day to day based on the strains grown, i.e. indica, sativa or hybrid strains. Not all strains and hybrids develop at the same pace. The day to day plant development and progression presented here, is more of an informative log as to what to look for as the plants respond to the environmental and cultural practises that you provide. Daily variances and overall days to harvest will be dictated your greenhouse temperatures, the type of lamps and light quality you provide, the proximity of lamps to the plants, injecting CO2, and the overall fertigation program…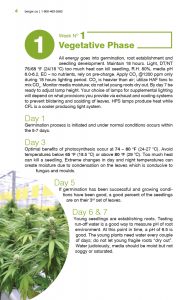 Week #1 | Vegetative Phase
All energy goes into germination, root establishment and seedling development. Maintain 18 hours. Light, DT/NT 75/65 °F (24/18 °C) too much heat can kill seedling, R.H. 80%, media pH 6.0-6.2, EC – no nutrients, rely on pre-charge. Apply CO2 @1200 ppm only during 18 hours lighting period. CO2 is heavier than air; utilize HAF fans to mix CO2. Monitor media moisture; do not let young roots dry out. By day 7 be ready to adjust lamp height…
Get great results by following the guide !