CONTROLLING GROWING MEDIA
By using Berger's peat, Little Leaf Farms grows top-shelf leafy greens.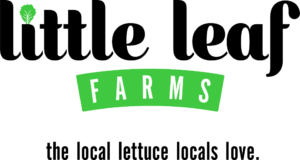 Head grower Logan Quay has been at Little Leaf Farms for five years. He started out at Little Leaf as a maintenance technician before rising up the ranks. He is based at the company's main facility in Massachusetts and has also helped train growers that move to other Little Leaf ffacilities.
"We have our first three phases here in Massachusetts, all in one location to maximize our growing capacity in this one site," Quay says. "That's 10 acres here and we have 20 acres up and running in Pennsylvania." During his time at Little Leaf, Quay says they made a "big switch" with their growing media. During their first two builds, they used rockwool in their NFT mobile gutter system. When
they built their third facility, they made the switch to loose peat. This was during the pandemic, so they ran into issues with supply. They also had issues with their first supply of peat.
"There were a lot of issues over the first six months [with another supplier]," Quay says. "I reached out to Berger for two reasons. The first is that they were in Canada, so shipping costs weren't going to be crazy. And second, we realized early on that they were going to give us great support. This was so new for us. We did trialing, but not at scale. … So in the beginning with Berger, I realized that they were good thought partners." Quay says his Berger sales rep and their in-house grower came for several on-site visits to help him figure everything out.
"Berger's expertise in controlled environment agriculture was another selling point to him and the Little Leaf team"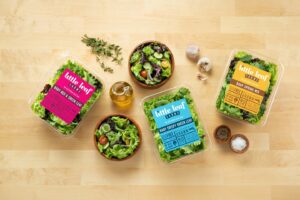 "Their material worked really well in our processing equipment," Quay says. "And I could get my structure figured out much better with their material. And then having them on site so much to look at things, to test things with me, to give me feedback, it was essential. We were new to this, so it was nice to have people to come in and give us another perspective on things." He adds that Berger's peat allows them to customize their mix and find the right additives to give them exactly what they want.
Quay says that Berger's expertise in controlled environment agriculture was another selling point to him and the Little Leaf team vs. other possible suppliers. "It's super important," he says. "Growing media is the start of our entire process. If we don't have a foundation that is stable and predictable, then we are chasing our tails all over the growing process. Berger means we don't have to do that."
DISCOVER OUR VEGGIE GERMINATION MIXES