Back to press room
The Gala des prestiges held on February 17 honoured the region's businesses that stood out in various categories, but also in six special awards, including Employer of the Year and Business of the Year. Berger came away with the Prestige Award "Transportation, Manufacturing and Processing" Company.
Co-CEOs Mélissa and Valérie Berger were surprised, but are sincerely touched by this recognition, and particularly by the unique 2020 nomination process. In fact, it was Berger's business partners who recommended the company established in Saint-Modeste since 1963. The trust shown by this gesture is a concrete expression of the importance Berger places on developing and maintaining valuable relationships with its clients, partners and employees.
This nomination is the result of a collective effort, because it is thanks to the contribution of each and every one of our employees, clients and partners that Berger has been able to stand out from the crowd. The team works relentlessly to achieve a common goal; to offer unparalleled service to a clientele that places its trust in us day after day. The Co-CEOs would like to thank all the people around them who contribute to the evolution of the company.
The context of the last twelve months has forced entrepreneurs to reinvent themselves, to see the opportunities hidden in the challenges that the pandemic has brought. All businesses and companies have worked hard to reorganize their operations, review their projects and adapt to this unusual situation. Berger would therefore like to offer its warmest congratulations to each business and organization nominated for this 45th edition of the Gala des prestiges.
It was during the unveiling of the Gala des prestiges de la Chambre de commerce de la MRC de Rivière-du-Loup in December 2020 that Berger learned of her nomination as a finalist at the 45 th Gala des prestiges in the "Transportation, Manufacturing and Processing" category.
To read the official announcement of the finalists

,

click here

(french only)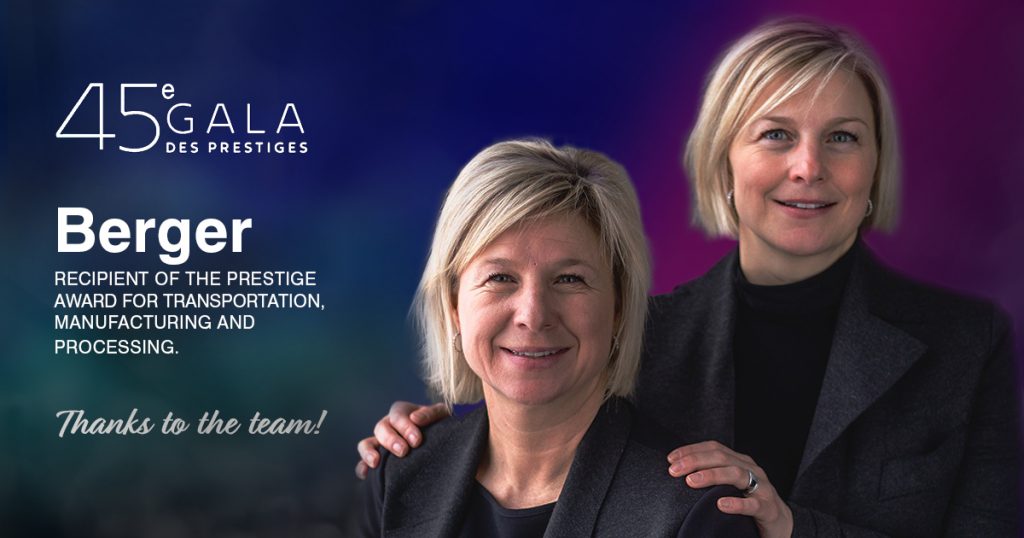 Please fill out this form to get the article in pdf format