Back to press room
Centre de la Petite Enfance des Jardins Jolis and Berger: Partnering with our Families
February 11, 2020
On February 11, 2020, Berger stood alongside Ms. Mary-Eve Gauvin, CEO of the Centre de la petite enfance des Jardins Jolis, to announce the partnership for the provision of 25 new spaces in a childcare centre in Saint-Modeste.
This new facility will bring the total number of sites for the Centre de la petite enfance des Jardins Jolis to 5, and will allow 25 additional pre-school children to be accommodated by May 2021. Of these places, 10 will be reserved for infants under 18 months of age.
A great feature of this project is that the centre will have a nature-based educational program. The new childcare site, which will be located at 135, 1er rang, will be in a natural environment to focus on outdoor activities and make the children aware of the need to respect the environment.
Berger's two Co-CEOs are particularly proud to be involved with the project, which is the only one that has been allocated in the greater Bas St-Laurent/Gaspésie/Les Îles region. With the quality of life of its employees and the socio-economic development of the environment at the heart of the company, the businesswomen are involved as major partners in the project by providing the land and design plans for the future childcare centre.
For Berger, this new childcare centre is not only a way to improve the quality of life of parents, but also a major asset in the recruitment of new employees. This partnership with Jardins Jolis is a concrete way to develop the sense of belonging to the region among young people and their parents.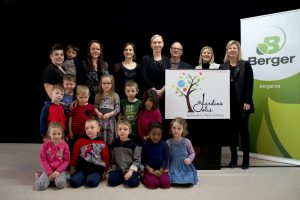 Please fill out this form to get the article in pdf format