Back to press room
About the Oakbank Mixing Plant
This new production plant, which is scheduled to be fully operational in early summer 2021, is the 9th Berger's horticultural mixing facility, and fourth site in Manitoba.
The future infrastructure will use high-quality Canadian peat moss and first grade ingredients to create specific purpose growing media. The plant is also designed to include a quality-control laboratory and state-of-the art automated packaging systems. Ultimately, the year-round operations will employ more than 50 employees from a wide range of positions.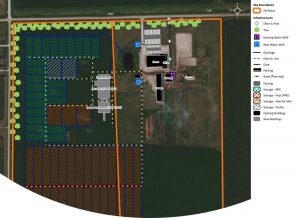 Timeline of the Project
Summer 2019: Project kick-off with stakeholders and authorities (environment, RM of Springfield, and Economic development)
Fall 2019: Beginning of the environmental assessment.
Winter 2019: Building and development permits issuance for the foundation. | Confirmation of zoning.
Spring 2020: Issuance of the environmental approval to begin foundation work. | Beginning of foundation work. | Official application for the environmental licence. | Collaboration with the municipality regarding road & fire management.
Summer 2020: Public review of the project at the environmental level. See reference | Public presentation of the project by Berger. Download presentation | Issuance of building permits for the rest of the structure (building and development permits). | Issuance of the environmental licence. See reference
Fall 2020: Beginning the construction and pursue renovations. Expected until spring 2021.
Spring 2021: First production tests and adjustments. Expected
Summer 2021: Beginning of operations at the plant. Expected
DOWNLOAD THE PRESS RELEASE ABOUT THE CONSTRUCTION
Communicate with us!
Berger is always open to discussions and suggestions, so if your wish to share your feedback, comments, or concerns about the project, please communicate with the dedicated member of the team. Information received today will be taken into consideration as the project evolves.
---
–
About Berger
Founded in 1963, Berger is a third-generation family business that specializes in peat and growing media. It provides the professional producers with the primary resource for growing fruits, vegetables, and other plants. With over 700 employees, the Canadian organization has developed a network that includes 11 harvesting sites and 8 production plants in North America. At Berger, social commitment and sustainable development are at the heart of everything we do.
Welcome to Berger. Welcome home.
Please fill out this form to get the article in pdf format